William P. Lavelle - Cedar Hill Cemetery - Union Cemetery
Funeral Services celebrating the life of William "Bill" P. Lavelle, 89, of Newark, will be held at St. John's United Church of Christ, 11 A.M., Saturday, November 2, 2019 with Rev. William Rauch as celebrant. Friends and family may call at the church one hour prior to the funeral service. Private inurnment services will be held at Cedar Hill Cemetery.
Bill died peacefully at Licking Memorial Hospital on October 29, 2019. He was born November 19, 1929 in Newark to the late William H. and Helen (Richardson) Lavelle.
In summer of 1946, Bill started working at Cedar Hill Cemetery between his junior and senior years at Newark High School. After graduation, he continued this work for five years, while employed at other places, until he was drafted into the U.S. Army during the Korean Conflict. He served two years from January, 1951 until January, 1953. During this time, Bill attained the rank of Corporal, Chief Clerk in Battalion Headquarters of the 695th AFA, Ft. Knox, Kentucky. After discharge, he worked at Owens Corning as a draftsman.
In October, 1953, Bill was appointed Superintendent of Cedar Hill Cemetery by Mayor John Swank of Newark, a position held until his retirement April, 1982. He was then appointed General Manager of Union Cemetery in Columbus, Ohio, transitioning in 1996 to Treasurer of the Board of Trustees. From 2000 to 2014, Bill served as President of Union Cemetery. He continued as a cemetery board member until final retirement on Dec. 31, 2015 – for a combined 62 years in the cemetery business.
In 1954, Bill joined the Ohio Association of Cemetery Superintendents & Officials [OACS&O] as the youngest superintendent and attended his first of over 50 conventions as a dedicated member. Bill was first elected to the Executive Committee in 1963 and was the first speaker at the first Mid-Year Conference in 1967 in Columbus. He held various offices throughout his membership including President (1968-69); Secretary-Treasurer (1969-1979); and Executive Committee for 17 years.
Bill was appointed by Governor George Voinovich in 1993 to a three-year term for the formation of the Ohio Cemetery Dispute Resolution Committee, as approved by State Legislature. Bill was also an active member of the International Cemetery & Funeral Association (ICFA, formerly the American Cemetery Assoc). He achieved the highest award possible within his profession, Certified Cemetery Executive, conferred in 1988 by the association, the first CCE designation of a cemeterian in the State of Ohio. Bill was honored in 2006 in Las Vegas, with induction into the Half-Century Club of ICFA, and during the 200th Year celebration of Union Cemetery in Columbus.
Throughout his life as a resident of Newark, Bill was heavily involved in public service to the community. In addition to his 32 years at Cedar Hill Cemetery, he served a two-year term on Newark City Council's Finance Committee, and as Vice Chairman of the Personnel Committee; five years with Newark Civil Service Commission; as Past President, Secretary, and 60-year member of Newark Lions Club; as Secretary and member of Governing Board of Directors of A Call To College.
A member of St. John's United Church of Christ since 1952, Bill served two terms on the Church Council and was the oldest living Past President of the Congregation. He was a 60-year member of Acme Lodge #554, Free and Accepted Masons. He played as part of the Newark High School Basketball Team in 1947 that won the Central Ohio League championship. He was a basketball official for 27 years, working high school, college and tournament games across the entire State of Ohio. In 1968, Bill was appointed Commissioner of the newly organized Licking County League. He enjoyed making his own wine since 1976, even attended a wine making course at OSU – Newark. Billiards was another passion for Bill. As a "AA" ranked player and instructor, he enjoyed the game since the age of eight years old.
Bill and his wife, Virginia, traveled extensively, visiting all 50 states and 7 continents. Together, they volunteered as ushers at The Midland Theatre, each serving over 1200 hours since the theatre re-opened in 2002 - the first to reach such a milestone.
Bill is survived by his devoted wife of 68 years, Virginia Walker Lavelle; children, Gayle (Kurt) Miller and W. Dana Lavelle; four grandchildren, Jillian (Sean) Gulick, Patrick Miller (Emma Jandel), W. Spencer Lavelle and Taylor Lavelle; three great-grandchildren, Olivia Grace Gulick, William P. Gulick, and Onyx W. Lavelle; and many beloved relatives and friends.
In addition to his parents, Bill was preceded in death by his sister, Betty M. (Gene) Lavelle McKee.
Obituary from www.reedegan.com
November 6, 2019
William A. "Bill" Kuhlmann - Retired Superintendent - Arlington Memorial Gardens - Cincinnati
The son of William H. and Ida E. (Hoffmann) Kuhlmann was born on the family farm on Winton Road in Finneytown, Ohio on January 10, 1925. He died at age 94 at Hospice of Hamilton on October 3, 2019. A child of the depression and a descendant of a long line of farmers, Bill learned the meaning of hard work at an early age. He was a 1942 graduate of Mt. Healthy High School. His earliest employment was working for his parents at the Kuhlmann Jersey Dairy. He gained much experience there, good and bad. His story of running bootleg milk from a dairy in Indian Hill in a Model T truck at the age of 15 was a favorite. During this time, Bill married his wife of 68 years, Evelyn (Klein) Kuhlmann. Realizing he couldn't support a wife and family on five dollars a day, he got a job at General Electric. His days there were like those of a caged animal. Deciding he couldn't exist in a windowless building, he quit. It was then that Bill and Evelyn managed to secure a loan and in 1955 bought a 160 acre farm in Hanover Township. It was here they built a life and raised a family. Bill raised hogs, cattle, corn, hay, a daughter and three sons. Never willing to pay someone else to do something he knew he could do himself, he was an agronomist, an electrician, a plumber, a carpenter, a horticulturist, a welder, a mechanic and a veterinarian. Bill had an artistic side and made good wine from grapes he raised. Life was lean on the farm in those early years and there were many times when it was a scramble to make the monthly mortgage payment. One day in 1964, Bill was paid a visit by his uncle, Harry Kuhlmann, Superintendent of Arlington Memorial Gardens. Bill was offered a job at the cemetery and after being told that "it's better than eating snowballs", he accepted the offer. Bill remained there until his retirement in 1987, eventually becoming Superintendent himself. All the while running the farm as well. In retirement, Bill and Evelyn enjoyed pulling their 5th wheel camper around the entire country, sightseeing, camping and making new friends. Bill was a provider, a protector and a super-hero to his wife and children. His laugh and his zest for life will be sorely missed. Bill was preceded in death by his parents, his sister, Jean, two sons, Ronald and James and a great grandchild, Liam. Bill is survived by his wife, Evelyn; his daughter, Karen, son, William; daughters-in-law, Andrea and Sonia; granddaughters, Melissa (Tom) Gordon, Kristine (Kevin) Kraft and Courtney (Adam) Thompson; great grandchildren, Rilyn and Luke; special extended family members, Peggy Carney, "Danny" Daniel, Gail and Bob Hauer and many friends and relatives.
A graveside service was held at 11:30 A.M. on Wednesday, October 9, 2019 at Arlington Memorial Gardens, in the Garden of Memories, 2145 Compton Road, Mt. Healthy, Ohio with Pastor Chris Trumbull officiating. Memorials may be directed to Hospice of Hamilton, 1010 Eaton Avenue, Hamilton, Ohio 45013 or McGonigle-Millville United Methodist Church, 2370 Lanes Mill Rd., Hamilton, Ohio 45013. Online condolences are available at www.weigelfuneralhome.com.
October 3, 2019
Brian J. Meade, Son Of Rick Meade, Executive Director At Calvary Cemetery – Dayton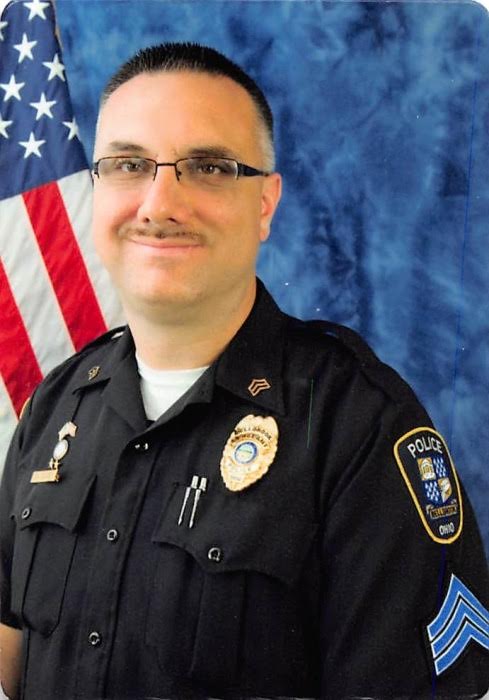 Brian J. Meade, age 41 of Fairborn, passed away peacefully surrounded by his family on Sunday February 24, 2019 at the Hospice of Dayton.  He was born January 16, 1978 in Dayton, the son of Rick E. and Sharene A. (Freeders) Meade.  Brian started his career in law enforcement with the Montgomery County Sheriff's Department and the Enon Police Department, and was employed with the Bellbrook Police Department for the last 17 years where he served as a DARE Officer and currently as Patrol Sergeant.  He was a member of Tree of Life Ministries in Fairborn where he served as worship leader. Brian was a Kentucky Colonel, enjoyed American history, loved music, and was an avid baseball fan.  He was preceded in death by paternal grandfather, Bill Meade; and maternal grandfather, Albert Freeders.  Survivors include his wife of 20 years, Claudette Renee; two children, Kayla and Andrew; his parents, Rick and Sharene; a brother, Eric Meade and wife Kelly and their son, Carson; paternal grandmother, Ella C. Meade; maternal grandmother, Rosalie Hicks Derringer; mother-in-law, Norma J. Carpenter; his brothers and sisters in blue and the Bellbrook Police Department; as well as numerous other extended family and many friends.  
The family will receive friends on Friday March 1, 2019 from 4:00 until 8:00 P.M. at the First Baptist Church of Fairborn, 1167 Highview Drive, Fairborn, where a funeral service will be held on Saturday March 2, 2019 at 11:00 A.M., Pastor Eric Meade officiating.  Burial will follow at the Calvary Cemetery, Dayton.  In lieu of flowers, memorial contributions may be made to the Brian J. Meade Memorial Fund, to assist with his children's education, at any Wright-Patt Credit Union location -or- the Maple Tree Cancer Alliance at www.mapletreecanceralliance.org.  Arrangements in care of Belton-Stroup Funeral Home, Fairborn.  
Donations may be made to:
Brian J. Meade Memorial Fund c/o any Wright-Patt Credit Union location Maple Tree Cancer Alliance Web: www.mapletreecanceralliance.org
Feburary 26, 2019
John Moor, Memorial Park Cemetery
Read full obituary.
Funeral services will begin at 1:00 p.m., Wednesday, Jan. 16, 2019 at Memorial Park Mausoleum, with Rev. Doug Adams officiating. Entombment will follow in the Mausoleum. Visitation will be on Tuesday, from 4-8 p.m. at Siferd-Orians Funeral Home and again on Wednesday, from Noon until the time of service in the Mausoleum.
Memorial contributions may be made to the Humane Society or the Lima Rescue Mission. Condolences may be left online at www.siferd-oriansfuneralhome.com.
In memory of John, please pass on an act of kindness to someone.
January 12, 2019